Remembering Dave Mungenast Sr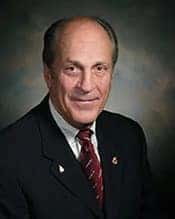 Dave Sr. and his wife, Barbara, felt a deep sense of community and were committed to giving back to everyone who helped make them successful. Each year, a portion of the Mungenast Automotive Family profits go to the Dave and Barbara Mungenast Foundation. Recipients of funds from this foundation include: the Make-A-Wish Foundation, Gene Slay's Boys´ Club of St. Louis, St. Louis Area Foodbank, St. Anthony´s Medical Center, and the KlaasKids Foundation. Barbara Mungenast, along with her three sons, Dave Mungenast, Jr., Ray Mungenast, and Kurt Mungenast, continue this tradition today.
Dave Mungenast, Sr. passed away on September 20, 2006, but still lives in the hearts of his family members and associates who worked for him and lived by the rules he set forth. The Mungenast Automotive Family continues to grow under the tradition of excellence that Dave, Sr. pioneered.
The family and associates of Dave Mungenast, Sr. are proud to have worked under his leadership. He was not only the founder of the Mungenast Automotive Family; he was a mentor, employer, and friend to all who are dedicated in honoring his legacy by continuing what he started.